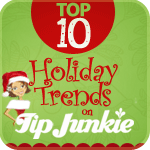 It's Christmas time, which means Christmas cards. Angie, from The Arthur Clan, wrote a wonderful post with tips on how to capture a great family photo and once you get that perfect Christmas picture,  you want to share it with others in a Christmas card. Today at Tip Junkie, I explain how to make your own Christmas card in Photoshop Elements (or Photoshop), complete with tons of screen prints and a video tutorial.
I was beyond thrilled to be guest posting at Tip Junkie, I site I've been following for years. So, to celebrate that momentous occasion, I decided to share four sweet little Christmas trees that you can use on your Christmas cards, if you like. Click on the image below to download the zip file that contains four separate trees for you personal use.
These are PNG files with transparent backgrounds, so you can add them to any image and the current background will show through. The tree is a shape I purchased from online (with commercial rights) and the red, green and blue backgrounds are from the kit made by Dawn by Design.